For the Chocolate Mousse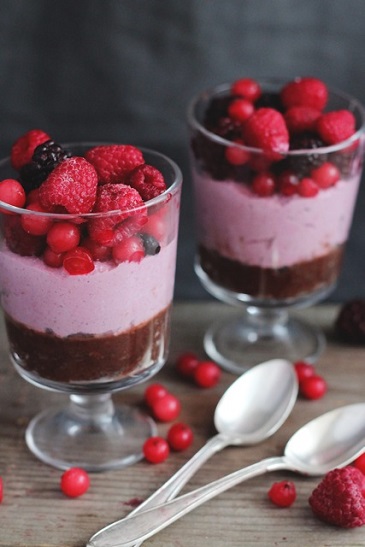 Saying I love you in a special way doesnt have to be complicated. Or time-consuming. Or unhealthy.
Prove the love for your special one in the sweetest but responsible way, using healthy ingredients good for both of you.
Find your inspiration with our delicious Valentines Day dessert ideas, and get ready for a fantastic evening of love and indulgence!
Ingredients (Serves 2)
1/2 Cup dry dates, pitted
1 Ripe banana
1 tsp coconut oil
2 tsp raw cocoa powder
Half of the seeds from a vanilla bean
For the Raspberry Mousse
1/2 cup raw cashew nuts, soaked over night
2 tsp coconut oil
1/2 cup raspberries, fresh or frozen
1 tsp agave nectar
One handful forest fruits (raspberries, blackberries, cranberries), to decorate
You dont need to spend the whole day in the kitchen to impress your loved one. This fluffy chocolate-raspberry mousse is ready in few minutes, easy to assemble and has a gorgeous look.
Shall we add that is completely guilt-free and contains a powerful aphrodisiac banana?
Preparation
=> Start with the chocolate mousse first, at it will be the first layer when assembling, and it needs to thicken before adding the raspberry mousse on top.
=> Chop the dates, and add them in a food processor together with all the other ingredients for the chocolate mousse.
=> Mix well, until fluffy, evenly distribute in two glasses or jars, cover with plastic wrap and place them in the refrigerator for at least half an hour.
=> Meanwhile, prepare the raspberry mousse, by adding all the ingredients in a blender, and processing until you obtain a creamy mixture.
=> Place the mousse in the refrigerator for 30 minutes, to thicken. Before serving, create a layer of raspberry mousse on top of the chocolate mousse, and garnish generously with forest fruits.