People who have type 2 diabetes have special needs when it comes to their diets. They need to plan their meals and use the right diabetes recipes in such a way as to control calorie, sugar and fat intake, and so as to be able to maintain a healthy weight while keeping their blood sugar levels within normal limits.
To achieve these goals, diabetics need to eat more fiber-rich foods like fruits and vegetables and less sugary, fatty and salty foods. They also need to practice portion control and eat meals regularly. Eating healthy meals, maintaining an active lifestyle and controlling weight are the essentials of diabetic treatment, whether or not one is taking medications to control blood sugar levels.
To give you an idea of how to prepare meals, here are some healthy diabetics diet recipes.
Strawberry-Yogurt Smoothie
To prepare 2 servings of this smoothie (about 1 cup each), combine these ingredients in a blender until smooth:
cup fat-free milk
tsp. Strawberry flavor drink mix
cup vanilla low-fat yogurt
cup frozen strawberries
Whole-Wheat Pancakes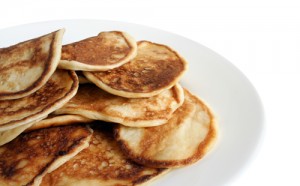 cup all-purpose flour
cup whole-wheat flour
1 Tbsp brown sugar
1 Tbsp baking powder
egg
cup nonfat milk
1 Tbsp margarine, melted
Nonstick cooking spray
Combine dry ingredients in a medium bowl. Then mix egg, milk and margarine in a separate bowl. Add flour mixture to egg mixture until the batter becomes lumpy. Apply cooking spray on a griddle or heavy skillet. Pour cup pancake batter to make each pancake. Cook the each pancake until the top is bubbly and appears to look dry, and the bottom is golden brown. Turn and cook until the other side is brown. Top with slices of fresh strawberry and 1 tbsp pancake syrup. Makes 2 servings.
Tuna Burger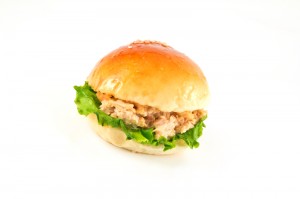 10 oz tuna, divided into 2 portions
1 tbsp olive oil
Salt and pepper to taste
2 whole wheat burger buns, toasted
2 tbsp pesto
Sliced tomato
Thinly sliced red onion
Lettuce
Coat the tuna slices with the olive oil then season with salt and pepper. Grill each side on high heat for 2 minutes or until the surface is lightly charred but the interior is pinkish. Place the tuna in toasted buns with the pesto, lettuce, tomato, and onion. Serves 2.
Zucchini Olive Salad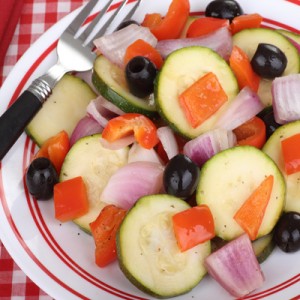 3 medium zucchini, sliced
1 tbsp lemon zest
cup Kalamata olives, pitted and chopped very finely
Olive oil
1 lemon
cup basil, cut into strips
Sea salt
Arrange the zucchini in an overlapping pattern on a platter. Sprinkle the olives and lemon zest evenly over top. Carefully drizzle a small amount of olive oil and squeeze some lemon juice over the zucchini. Sprinkle with sea salt and scatter basil strips over the top.
Roasted Broccoli and Peppers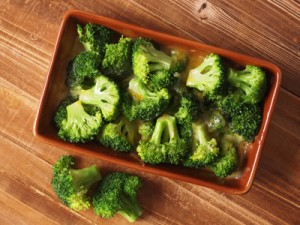 8 cups broccoli crowns, cut into florets
3 tbsp olive oil
Salt and pepper
2 cloves minced garlic
A large pinch of dried crushed red pepper
Preheat oven at 450F. Coat the broccoli with 3 tbsp olive oil in large bowl while tossing. Sprinkle with salt and pepper. Roast them in a rimmed baking sheet for 15 minutes. Mix remaining 1/2 tbsp olive oil, garlic, and red pepper in small bowl. Sprinkle the mixture over broccoli. Roast until the broccoli begins to brown. Season to taste with salt and pepper. Serve immediately.