The ingredients in this recipe have been shown to help detoxify the body and also provide nutrients that are beneficial for the regulation and lowering of blood pressure. High blood pressure, or hypertension, can be extremely dangerous, causing damage that can last for years.
Normally, the arteries of a healthy person are strong and flexible. Individuals suffering from high blood pressure, however, experience the narrowing of the arteries they may also become thick and stiff, a disease called arteriosclerosis.
As a result, blood flow to your heart, brain and extremities may be affected. Artery damage can also cause chest pain, kidney failure and even stroke. Decreased blood flow to the brain can contribute to a variety of problems including dementia, cognitive impairment, and more. Your kidneys also suffer, leading to possible kidney scarring, enlargement or even kidney failure.
Some of the best foods to help reduce blood pressure include celery, spinach, beets and pears.
*Celery contains high levels of calcium which helps to control blood pressure and calm the nerves.
*Spinach is high in fiber and packed with magnesium both of these elements are very important in lowering blood pressure.
*Beets help to regulate blood pressure lowering it when it is too high and raising it when it is too low they also provide a natural source of energy.
*Pears, in addition to giving this recipe their sweet flavor, contain antioxidants and anti-carcinogenic compounds which help to repair damage from high blood pressure.
This recipe is an ideal blend of blood pressure-lowering ingredients. Not only is it good for you and for your body, but it tastes great, too! The celery and cucumber give this recipe a refreshing, light taste while the pear adds a hint of sweetness and the beets a subtle depth of flavor.
Enjoy this recipe for breakfast or try it out for an afternoon snack to recharge your battery. With recipes like this in your arsenal, you can combat high blood pressure and restore your body to its optimal level of health and function. Why wouldnt you, when healing tastes this good?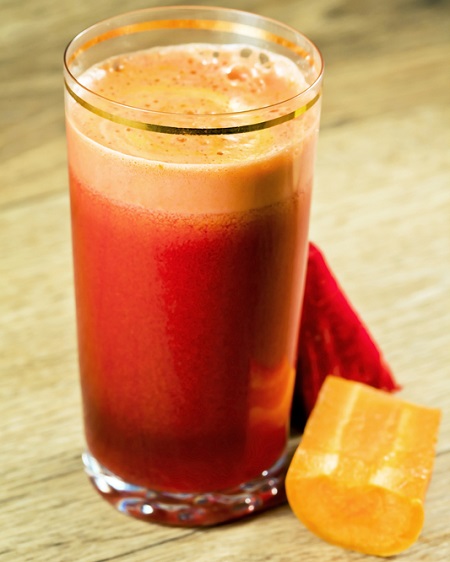 Servings: 2 to 3
Ingredients:
4 medium stalks celery
3 medium carrots
2 cups fresh spinach
1 medium beet, greens included
seedless cucumber
1 inch fresh ginger
1 medium ripe pear
fresh lemon, peeled
Preparation:
1. Rinse all of the ingredients well under cool water and shake off the excess moisture.
2. Chop or trim the ingredients as needed to fit through the juicer.
3. Place a pitcher or plastic container under the mouth of the juicer to collect the juice.
4. Feed the ingredients through the juice in the order listed.
5. Stir the juice well and pour into glasses. Serve immediately for the best flavor.
**Note: This juice can be stored in the refrigerator in an airtight container for up to 48 hours. Fresh juice loses some of its nutrient content during storage, so drink immediately for the most benefit.