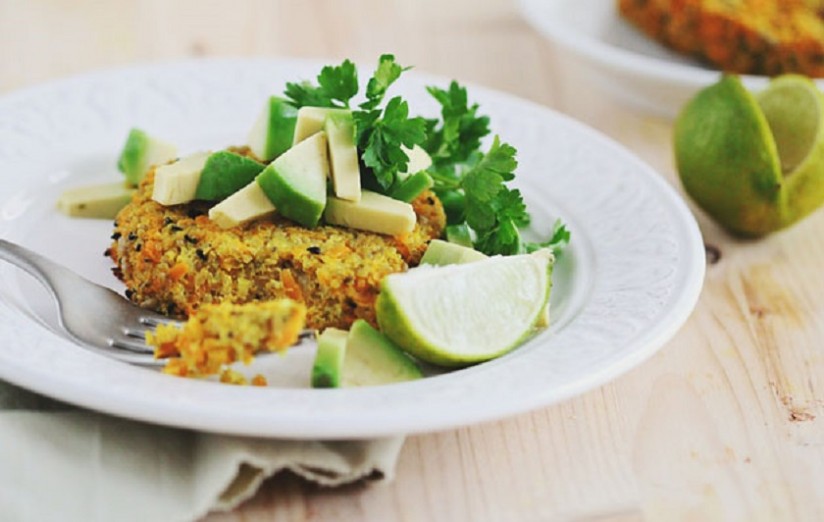 When you dont have too much time for preparing your meal, these nutrient packed quinoa sweet potato cakes are in hand for a quick dinner or lunch serve. The bright orange color of the sweet potato announce a quality source of beta-carotene, a fantastic antioxidant. To make sure your body absorbs the vitamin A from sweet potatoes, make sure you pair it with a healthy source of fat, like avocado. These savory cakes provide quality proteins from quinoa and Potassium, vitamin A, C and B6 from sweet potato, making them a wonderful meal to nourish your body.
Ingredients
1 cup quinoa
1 medium sweet potato
1 small red onion, finely diced
2 tbsp chia seeds
1/4 cup whole wheat bread crumbs
2 garlic cloves, minced
2 organic eggs (for the vegan version, replace them with 2 tbsp flax seeds, soaked for at least 15 minutes)
1/2 tsp pink Himalayan salt
1 tsp turmeric powder
1 tbsp olive oil
Freshly ground black pepper
To serve (avocado salsa)
1 ripe avocado, peeled and cut in small cubes
Fresh juice from 1 lime
1 smal bunch of parsley or coriander, finely chopped
Method
Preheat your oven at 180C/360F.
Wash the potato, cut it in half, drizzle with olive oil and roast it in the oven for 20 minutes, until soft.
Remove the skin, mash its orange flesh with a fork and leave it in a bowl, to cool.
Boil the quinoa in plenty of water for 15-20 minutes or until tender, but still firm quinoa will give the texture of the cakes, and you dont want it too mushy.
When cooked, drain and set aside to cool.
Put the quinoa in the bowl with the mashed sweet potato, add the eggs, the bread crumbs, the finely diced onion, chia seeds, the minced garlic cloves, and mix well with a wooden spoon until combined.
Season with salt, pepper and turmeric.
Line a baking sheet with parchment paper.
Use your palms to create big balls of mixture, line them on the baking sheet and flatten them to obtain the form of a burger.
Drizzle with olive oil and bake in the oven for 15 minutes on one side, then turn them upside down and bake for another 15 minutes.
Remove them from the oven, let cool for 5 minutes, then transfer them on a plate.
Serve with avocado salsa.