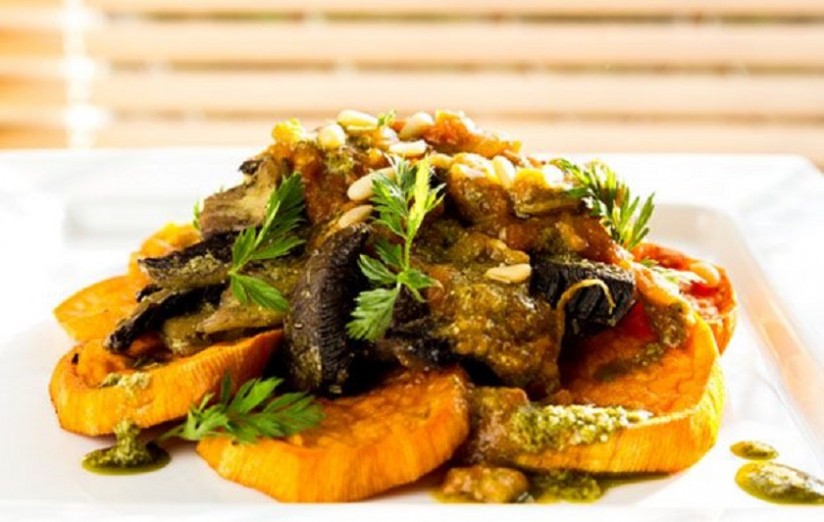 Research shows that there are at least 9 reasons to eat sweet potatoes. So, quite apart from the fact this dish is brilliantly easy to make its also very healthy and keeps the tummy happy and full for longer.
Sweet potato contains copper which helps our bodies produce collagen which keeps our muscles healthy, and, more importantly, the skin nice and firm. They also contain Quercetin which is said to be a helpful anti-allergen.
Sweet potatoes have as much beta-carotene as carrots, making them a great cancer/heart disease/inflammatory fighting food. Theyre also high in potassium, vitamin C and B6. Perfect.
To make this dish I took one large black mushroom and sliced it into strips and coated these in fresh pesto and olive oil and put them to one side. I then peeled and sliced the butternut into rounds roughly 1cm thick, brushed with coconut oil and roasted them in the oven on a low heat.
While the mushrooms marinated and the sweet potato roasted I sliced two cloves of garlic (also good for the heart) and gently fried the slices in coconut oil until lightly golden in colour. While these cooked I peeled and chopped two large tomatoes then added them to the garlic and let them cook slowly until the tomato was quite thick and very flavourful.
Once the sweet potatoes were cooked I laid them on the plate so there was a hole in the middle, added the mushroom pesto and poured them tomato sauce over these.
The final touch was to sprinkle with pinenuts.
Ingredients
Serves one hungry person!
1 medium sweet potato
2 large black mushrooms
2 cloves of garlic
2 large tomatoes
1 tblsp pine nuts
Salt and pepper
Pesto (A bought pesto works fine but if you want to make your own heres the recipe)
In a blender add 50g roasted pine nuts, a handful of fresh basil, 50g parmesan, two garlic cloves and 150ml olive oil, plus extra for storing. Whizz this up until lightly blended. Dont over blend or else it loses its texture.